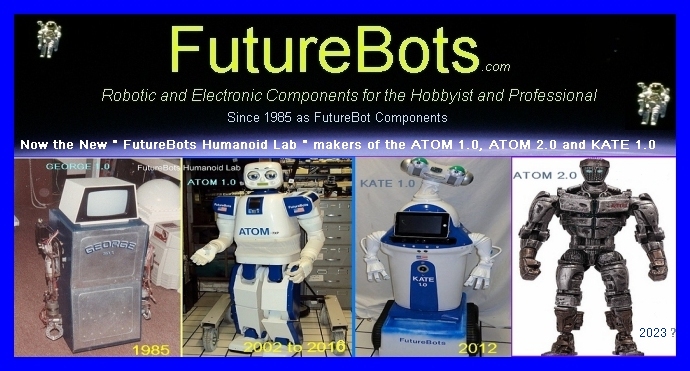 We Need Donations! Updated 05/24/2019
---
FutureBots Humanoid Lab - F.B.H.L. is advancing robotics to support the needs of mankind in Space exploration, Healthcare, Commercial and Industrial Manufacturing, Hazardous rescue activities and Chemical and Biological disposal applications with the introduction of the ATOM 1.0 humanoid and the now being built ATOM 2.0 humanoid robot and with this new technology we can create Hi-Tech jobs for the USA that can't be exported.
---
---
---
From FutureBots Humanoid Lab FBHL is the first and only Full-Sized Humanoid Robot in the United States, and is the first self contained Humanoid robot made in the USA by Dan Mathias a Robotics Scientist, a multi year project, self funded. The ATOM 1.0 humanoid robot is powered by Intel ATOM and i5 4 core embedded processors and Microsoft 7e, Linux Unbunto embedded and NVIDIA Jetson.
Please help if you can with your money donations below at the bottom of page. PLEASE help me finish this very hard to build humanoid robot project, become a silent person or tech donation partner in this great humanoid project. PLEASE help me bring technology to the USA and the world.
---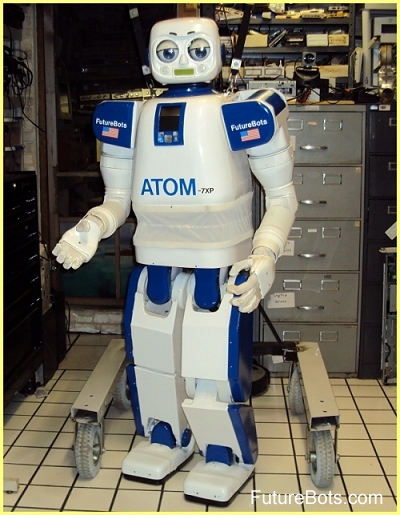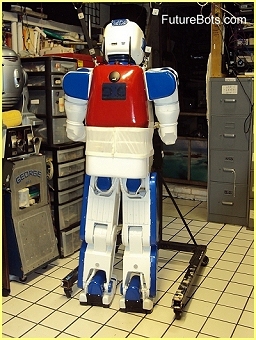 FutureBots is advancing robotics to support the needs of mankind in space, healthcare, commercial, hazardous rescue activities and chemical and biological disposal applications with the introduction of the ATOM humanoid robot and with this new technology we can create Hi-Tech jobs for the USA that can't be exported.
ATOM, which stands for "Advanced Technology for Optimizing Motion",
was build by Dan Mathias an Robotics Scientist an electrical/mechanical/software engineer. ATOM has Windows 7e and Windows XPe and has over 49 degrees of freedom, hand made of aluminum, titanium and carbon fiber all hand build in the USA in the FutureBots Labs by Dan Mathias Robotics Scientist. Has many hi powered processor units running the worlds most advanced operating systems. Also has advanced stereo vision system and advanced walking system that imitates humans and will be featured in the next issue of ROBOT magazine LERN section in Jan. of 2010 issue or the March/April issue of
Robot Magazine issue # 21
---
Tom Atwood Robot magazine interview: Issue 21 - 2010

---
Key specifications of the new ATOM 1.0 robot
The ATOM humanoid is in its baby walk stages with all the DOF joints being thoroughly tested to insure function before a full walk session will happen.
Size
Performance

Li Battery Time:
(Walking)
T.B.D.

Degrees of Freedom
---
What's inside ATOM 1.0 humanoid robot ,
These are basic specs. and can change anytime to be upgraded to more advanced system parts as need.
Specifications and capabilities:

OS
Windows 7 embedded, Windows XP embedded, Linux Unbunto embedded and NVIDIA Jetson.

CPU's
Intel Atom - 1.66 Ghz
ITX Intel i5 dual core 2.6 Ghz
VIA Nano 1 Ghz

Vision system

Stereo color Vision with
Depth Perception

BODY

Aluminum
Titanium
Kevlar - Fiberglass
Plastic

Sensors
6-Axis Force Sensors
3-Axis Accelerometers
3-Axis Gyros
Ultrasonic range units
Stereo microphones
Actuaters
DC Servo Motor
Reduction Mechanism
Harmonic Drives
Power
24 volt Li-ion polymer batterys
Cost
About 8 years of hard work
Maybe 5 years total lab time.
---
ATOM Robot Photos More coming soon:
---
Featured Magazines ATOM humanoid robot is in.
---
ATOM Humanoid robot Test videos
| | |
| --- | --- |
| Upper Left Arm 4 Joint test | Both arms and head test with talking. |
---
---
Please, I need your Help, become a silent or not silent tech Partner, VC or Angel
I'm a small business owner with a big dream, a robot engineer of one.
I have NO big companies behind me to help yet.

Donate what you can 100 dollars or a 5 million dollars, it's up to you, we need your help with the project and future projects.

---
We need a monetary donation of 5 million dollars for a lab building,
equipment, hiring enginners.

---

Need a lab location donated on the East Coast Florida with property Taxes paid for 5 years
or a monetary donation of 5 million for a lab.

---

I need Dodge Sprinter Van will do to transport the robot.

---
---
Please help me and ATOM if you can by donating money to help finish building ATOM humanoid robot and pay my lab over head for further robot research funding, any amount from a dollar to what ever. These are tough financial times for building such advanced robot systems, and any amount small or large will help. When you're working on this tough project with just 1 person and my cat in a lab, I wish I had 30 engineers and millions of dollars, will maybe 10 smart engineers and 10 million dollars to build even more advanced Humanoid robots for the USA.


Just remember Microsoft, Intel, HP, Solitron, and Apple to name a few started out with just a one or two people with a dream to better the USA and the world.
Thanks so much!

Thanks so much to Money Doners to the ATOM humanoid robot project so fare towards the 3 to 5, Million dollars I need for the new Super HI Tech robot lab of the future.
Donations over $500.00 dollars get a FutureBots Lab T-Shirt in L, or XL real nice.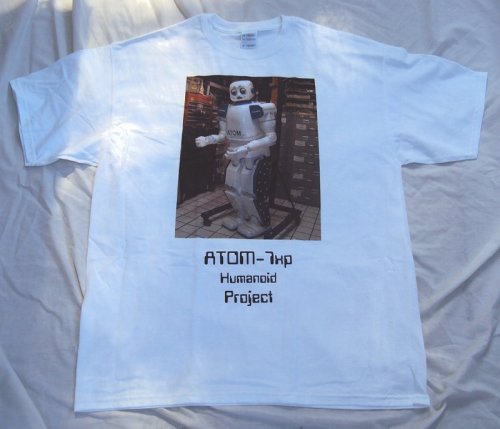 ---
---
Future-Bot Components © 1985 - 2019 FutureBots