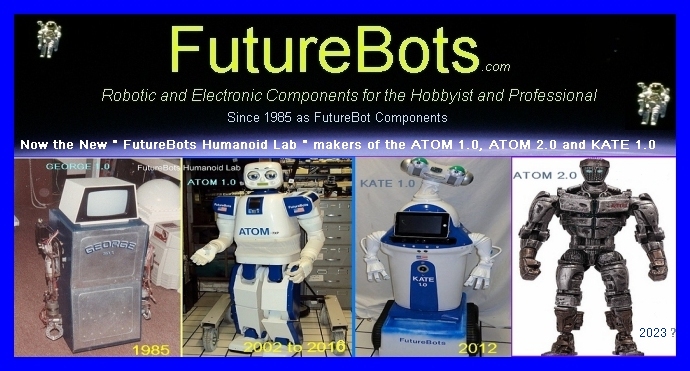 Terms and Ordering Information
---
FutureBot Components
Jupiter, Florida, USA
---
I take PAYPAL for all orders and Donations for the Robot projects..


Donations are NOT tax deductible.

If you need my phone number I will Email you it and my Shipping address if needed
Please email what you need and I will send you a Paypal invoice if you need muliple items.

Minimum Order $10.00 USA + Shipping,
I only ship to USA NO exceptions...
Note: Future-Bot Components reserves the right to deny sales to non-qualified customers.


---
SALES TAX :Orders shipped to an address in Florida must pay Florida State Sales Tax of 6.5 %. If you are required to pay sales tax in your state, that is your responsibility.
---
MONEY BACK GUARANTEE, USA ONLY.

---
Future-Bot Components WARRANTY

Future-Bot Components warrants certain merchandise against defects in material or workmanship for a period of 30 days from date of purchase. Defective items must be shipped prepaid. This warranty shall not apply to any item where defects have been caused by improper customer assembly, failure by customer to follow instructions, product modification, negligent or improper operation.
Disclaimer
Future-Bot Components, reserves the right to make changes to its Products or to discontinue any product or service Without notice, and advises its customers to obtain the latest version Of relevant information to verify, before placing orders, that the Information being relied on is current.
Certain applications using Microprocessor products may involve potential Risks of death, personal injury, or severe property or environmental Damage, you the designer is solely responsible for theses applications..
FUTURE-BOT COMPONENTS PRODUCTS ARE NOT DESIGNED, INTENDED, AUTHORIZED, OR WARRANTED TO BE SUITABLE FOR USE IN LIFE-SUPPORT APPLICATIONS, DEVICES OR SYSTEMS OR OTHER CRITICAL APPLICATIONS.
Inclusion of Future-Bot Components products in such applications is understood to be fully at The risk of the customer.
In order to minimize risks associated with the customer's applications, The customer to minimize inherent or procedural hazards should provide adequate design and operating safeguards.
Future-Bot Components assumes no liability for applications assistance, customer product Design, software performance, or infringement of patents or services Described herein.
In no event shall Future-Bot Components be liable for any claim for incidental or consequential damages arising out of or in connection thereof with the manufacture, sale, delivery or use of any product in this Internet catalog. It is the purchasers responsibility to insure the correctness of the item being purchased and it's proper use.

NOTE: Specifications, prices and availability of items are subject to change without notice. We cannot be responsible for typographical errors. Some Pictures may vary from the actual item. Quantity pricing is subject to freight considerations.